The Tunas Usahawan Belia Bumiputera (TUBE) program is a Government initiative to encourage youths to venture into business. It was triggered during the Bumiputera Youth Entrepreneurs Congress on March 27 - 29, 2014. During the Congress Final Ceremony on March 29, 2014, YAB Prime Minister announced an allocation of RM10 million to SME Corp. Malaysia to implement the program in 2014.
Objectives
The program directly supports the nation's youth development policy where entrepreneurship is one of the key areas of focus for youth to move forward. The program targets Bumiputera youths between the ages of 18 and 30 who have deep interest in engaging in entrepreneurship, especially youths who have basic skills certificates from local training institutions or skills centers. The main objective of the program is to:
To acculturate entrepreneurship;
Paradigm shift from job seekers to employment providers; and
To create resilience and sustainability of entrepreneurs.
Phase & Components
The programme includes both mental and physical endurance, and participants will be exposed to the landscape and challenges of the business world. This will be done through three phases which include: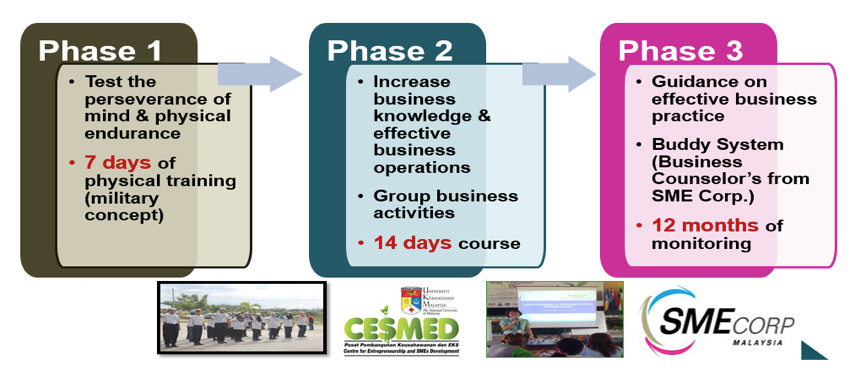 After the successful completion of Phase 1 and Phase 2, the participants will be considered RM15,000 in the form of grant to assist them in starting the business.
Contact Person:
Pn. Amira Haryany Mohd Amry (This email address is being protected from spambots. You need JavaScript enabled to view it.)
En. Hisyam Abdul Ghani (This email address is being protected from spambots. You need JavaScript enabled to view it.)
Tel: 03-2775 6177 / 6266