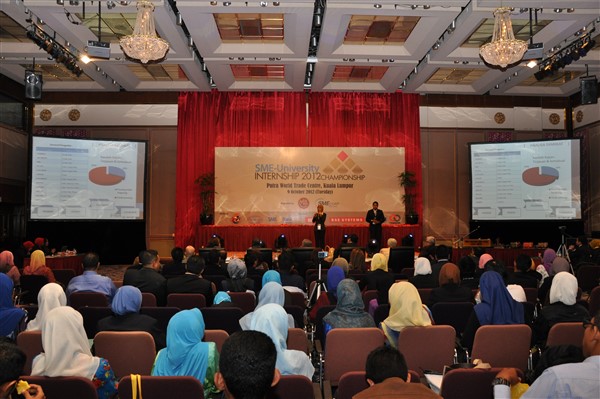 The SME-University Internship Championship 2012 held on 9 October 2012 at Dewan Tun Dr. Ismail, Putra World Trade Centre (PWTC), saw 68 students from 12 IPTAs competing to bring home the Championship Trophy. The event was officiated by Y.B. Dato' Sri Mustapa Mohamed, Minister of International Trade and Industry (MITI).
The inaugural championship was aimed at recognising the talents and capabilities of students in 'turning around' small businesses and bringing positive impact to the respective SMEs. The areas for improvement included sales, marketing, promotions, management and utilisation of IT in business activities. The championship was the culmination of the SME-University Internship Programme, jointly organised by SME Corp. Malaysia and the Ministry of Higher Education (MOHE), with the objective of promoting entrepreneurship among students.
12 IPTAs - Universiti Kebangsaan Malaysia (UKM), Universiti Sains Malaysia (USM), Universiti Utara Malaysia (UUM), Universiti Malaysia Pahang (UMP), Universiti Malaysia Perlis (UNIMAP), Universiti Sultan Zainal Abidin (UNISZA) Universiti Sains Islam Malaysia (USIM), Universiti Tun Hussein Onn Malaysia (UTHM), Universiti Putra Malaysia (UPM), Universiti Pendidikan Sultan Idris (UPSI) Universiti Teknikal Malaysia Melaka (UTEM) and Universiti Teknologi Mara (UiTM) - had participated in the championship this year. During the final round of the championship, the respective teams were required to present their creative and practical ideas on ways and means to assist a group of selected SMEs to a panel of judges.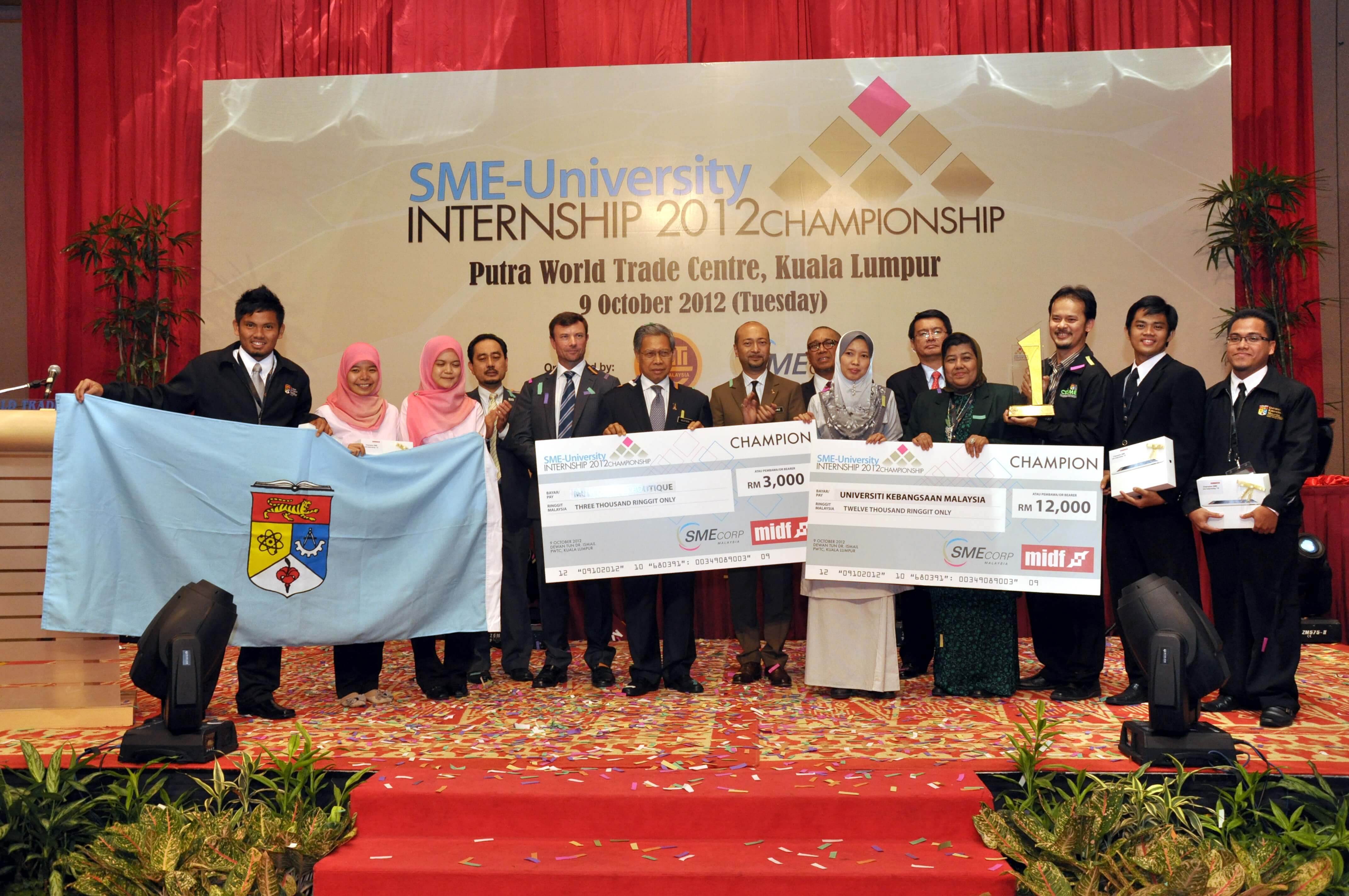 Y.B. Dato' Sri Mustapa Mohamed had presented the award to UKM, the winner of the championship this year. In his speech, Dato' Sri Mustapa had stressed that the Government would continue to create more opportunities as well as incentives to help realise the dreams and aspirations of serious would-be entrepreneurs.
The benefits of winning the championship included business loans by Perbadanan Usahawan National Berhad (PUNB) with a maximum amount of RM50,000 for each individual to start a business, based on the project that is presented. Additionally, for the winning team with no prior experience in starting a business, the team was offered apprenticeship training for 6 or 12 months (depending on the type of business) under the Graduate Programme.
The panel of judges included Datuk Maznah Abdul Hamid, Director of Securiforce Group of Companies, and Dato' Ameer Ali Mydin, Managing Director of Mydin Holdings Sdn. Bhd. Event sponsors were PUNB, MIDF, BAE Systems, Mydin Mohamed Holdings Berhad and Megapadu Sdn. Bhd.