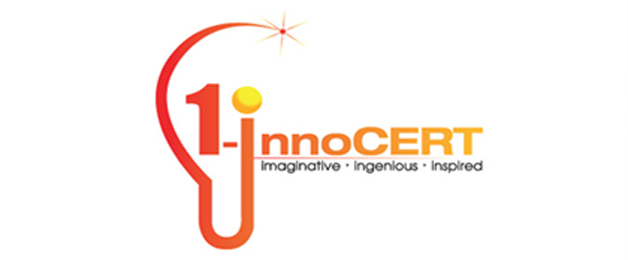 1-InnoCERT
Certification programme is initiated by SME Corp. Malaysia to promote and develop innovative companies in Malaysia as endorsed by the Jawatankuasa Tindakan Penyelarasan Inovasi Negaraand the National Innovation Council, chaired by the Prime Minister on 29th October 2009. It is aimed at fostering innovative enterprise through harnessing and intensifying home-grown innovations and R&D.test
The main objective of the certification is to encourage entrepreneurs to venture into high technology and innovation-driven industries. With more SMEs participating in such activities, it will eventually lead to them being more competitive and would help in Malaysia achieving its objective in becoming a high income nation by the year 2020.
The certification awarded under the Programme identifies and verifies innovative companies through an internationally-recognised innovation standard (OECD Oslo Manual V3) and the certification process is developed from similar process practised in Korea's Innobiz (Innovation SME) Certification Programme. Certified companies under the programme will be given a fast-track access when applying for incentives to fund and market their products and services as offered by the government.
Application criteria for SMEs:
1. SMEs incorporated under the Companies Act 1965 / Registration of Business Act (1956) and fulfil the new definition of SMEs
2. At least 60% of the equity held by Malaysians;
3. Valid business; acquire business license from the Local Authority and operating in a valid business premise;
4. At least two (2) years in business (able to provide 2 years Audited Financial Statement); and
5. Product and services must be commercialised for at least two (2) years.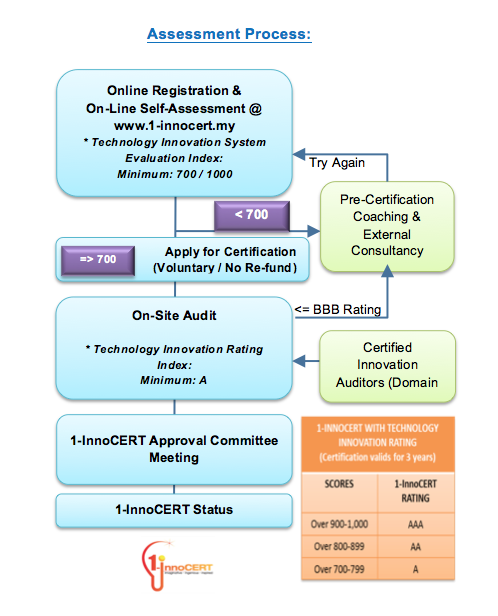 1-InnoCERT Certification Process

The 1-InnoCERT certification process involves a two-stage assessment. Potential innovative companies are required to conduct an On-line Self-Assessment (www.1-innocert.my) to gauge on their readiness to be certified as a 1-InnoCERT company. Upon completing the self-assessment, the on-line system will generate a Technology Innovation System Evaluation Index, ranging a score from 0 to 1,000. A scoring of higher than 700 is an indication that the company's internal innovation system and processes is ready to comply with the requirement.
Companies with difficulties in scoring higher than 700 can attend regular sessions of pre-certification training to understand the 1-InnoCERT criteria, and on how to become more innovative. Upon reaching a score of more than 700, the company can apply for an on-site innovation audit to be conducted at their premise. On-site innovation audit is compulsory to ensure that companies applying for the 1-InnoCERT certifications are indeed innovative and complies with the requirement of the 1-InnoCERT criteria.

Upon a successful passing of the on-site audit, the company can then officially apply to be certified as a 1-InnoCERT certified company. However, the approval is subject to acceptance by the 1-InnoCERT Approval Committee, which oversees the overall certification Program. Please take note that minimal fees are chargeable for the 1-InnoCERT certification (RM5,000.00 for first time certification and RM3,000.00 for renewal of certification).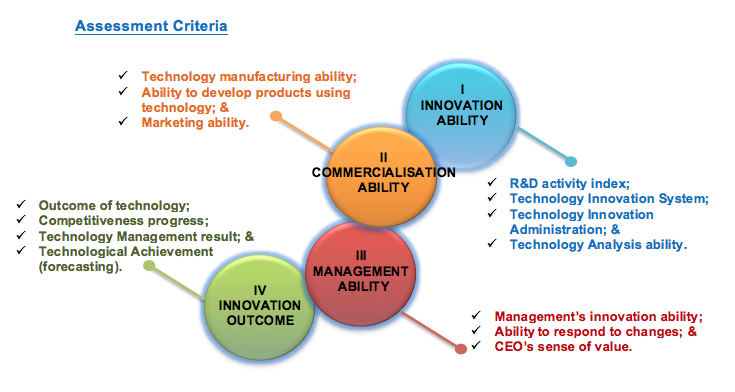 The 1-InnoCERT Innovation assessment criteria consist of 4 criteria:

Innovation Ability;
Commercialisation of Innovation Ability;
Management of Innovation Ability; &
The Innovation Outcome.
1-InnoCERT is currently available for 8 evaluation sectors:

Manufacturing;
Non-Manufacturing and services;
Biotech;
Professional Design;
Software / ICT;
Agriculture;
Environment (sustainable development, renewable energy, etc); &
Construction.
1-Innocert's Innovation Assessment adapts the Korean Innobiz innovation evaluation system which is based on an internationally-recognised innovation assessment standard i.e. the Oslo Manual by OECD and the European Commission (Eurostat), 2005. The Oslo Manual provides guidelines for collecting and interpreting innovation data in an internationally comparable manner.
Terms and Conditions
Logistic charges in addition to the standard on-site audit fee is applicable for companies located outside of the Klang Valley area, and the quantum of the additional logistic charges shall be determined on a case to case basis.
The standard on-site audit fee and additional logistic charges are payable to SIRIM QAS International Sdn. Bhd.
Both the standard on-site audit fee and additional logistic charges are not refundable.
SME Corp. and SIRIM Berhad reserves the rights to:

alter the Self-Assessment result to reflect the actual state of innovativeness of the company, as per the 1-InnoCERT certification criteria;
disqualify the company from applying and receiving the 1-InnoCERT certification.

The information provided by the company for this self-assessment is true and without prejudice.
The information and assessment results will not be alterable after they have been submitted for On-Site Audit.
Payment of Certification Fees shall be made to:

SIRIM QAS International Sdn. Bhd.
Bank Account: RHB BANK BERHAD
Bank Account No.: 2-12451-4008608-7
Benefits of the Programme
Facilitate access to financial incentives and wider market opportunity.
Complimentary arrangement for Business Matching with international companies, MNCs and GLCs
Opportunities and invitation to local and International innovation related programmes.