Background of APEC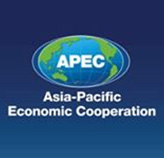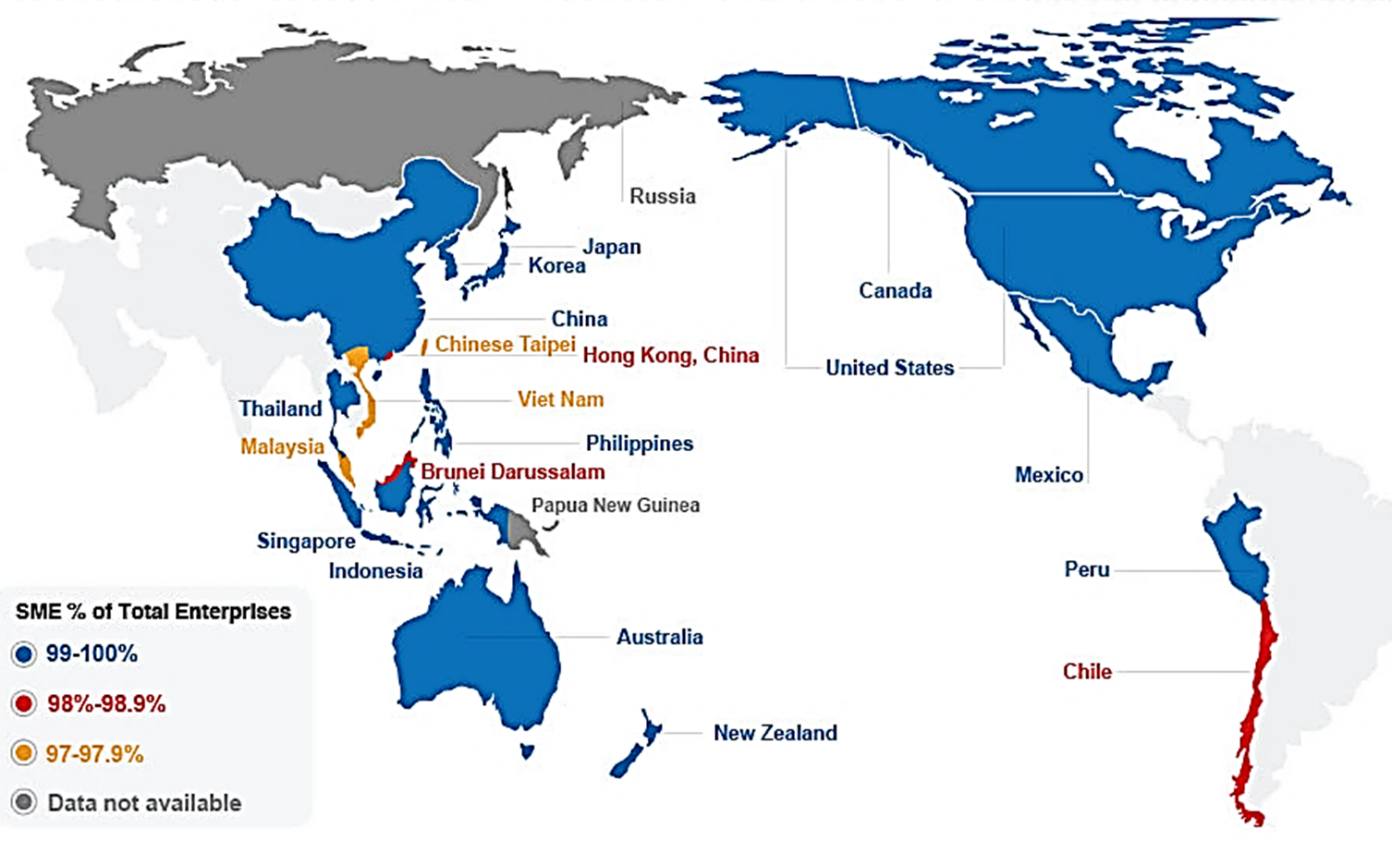 Source from APEC Policy Support Unit
The Asia-Pacific Economic Cooperation (APEC) is one of the leading economic fora established in 1989 which aims at supporting sustainable economic growth and prosperity in the region. Its 21 member economies collaborate closely to build a dynamic and harmonious Asia-Pacific community by championing free and open trade and investment, promoting and accelerating regional economic integration, encouraging economic and technical cooperation, as well as facilitating a favourable and sustainable business environment. Malaysia is one of the founding members of APEC in 1989, alongside 11 other economies, namely Australia, Brunei Darussalam, Canada, Indonesia, Japan, Republic of Korea, New Zealand, Philippines, Singapore, Thailand and United States. China, Hong Kong and Chinese Taipei joined in 1991. Mexico and Papua New Guinea followed suit in 1993. Chile acceded in 1994. Peru, Russia and Viet Nam joined later in 1998 taking the full membership to 21.
SMEs account for over 97% of all enterprises in the APEC region and employ over half of the workforce. SMEs contribute significantly to economic growth across APEC member economies with the SME share of GDP ranging from 20 - 50%.
For more information on APEC please visit the following link
http://www.apec.org/
APEC SME Economic Contribution
SME Corp. Malaysia's Role in APEC
Apart from assuming the role as the Central Coordinating Agency (CCA) that coordinates the SME development programmes across more than 17 ministries and 60 agencies in Malaysia, SME Corp. Malaysia is also an active member that supports the Ministry of Entrepreneur Development and Cooperatives (MEDAC) as the national focal point to the Asia-Pacific Economic Cooperation SME Working Group (APEC SMEWG).

Through our involvement in Asia-Pacific Economic Cooperation (APEC), continuous efforts are made in ensuring Malaysian SMEs obtain optimum benefits via active participation in various APEC programmes and activities. APEC is active in promoting the sharing of knowledge and information by making various economic studies, benchmarking and best practices that are available online for member economies to access. This eases cross-referencing among member economies including Malaysia, to develop policies and programmes that will facilitate SMEs development in the respective countries.

In addition, Malaysia also works closely across different Working Groups (WGs) in ensuring that the APEC initiatives benefit the SMEs in Malaysia and other member economies collectively.
APEC SME Working Group (SMEWG)
There are nearly 150 million businesses considered to be SMEs across the APEC region, accounting for around two-thirds of employment. In most APEC economies, over 98% of enterprises are considered to be SMEs, with more than half having shares over 99%. It is evident that the SMEs are the vehicle that creates most of the employment in Asia-Pacific and are also the backbone for regional economic growth.
In line with its vision to develop progressive SMEs, the rich platform of APEC provides great opportunities for Malaysia to learn on best policies and practices, as well as creating synergy between Malaysian SMEs and the SMEs in the other APEC member economies. SME Corp. Malaysia, under the ambit of the Ministry of Entrepreneur Development and Cooperatives (MEDAC), assumes significant roles in the APEC SME Working Group (SMEWG). The APEC SMEWG meets twice a year to plan and work on initiatives that would benefit the SMEs across APEC economies.
The SMEWG has been actively assuming its role to encourage development of SMEs among the APEC member economies. The SMEWG was established in February 1995 as the Ad Hoc Policy Level Group on SMEs (PLGSME). The group was then renamed as the Small and Medium Enterprises Working Group (SMEWG) in the year 2000. The SMEWG is the champion within the APEC region for inclusive development of sustainable SMEs that are well prepared to meet the challenges of the 21st century.
The SMEWG has since been putting in endless efforts to promote the development of an enabling business environment and fostering capacity building among the SMEs. It enhances the synergy with other APEC foras, private sectors and stakeholders to promote the development and growth of SMEs by maximising the benefits of policy dialogues and sharing of best practices in the APEC region. Moreover, the SMEWG also serves as a vehicle to mainstream SME considerations into the mandates and activities of other APEC groups, including institutional lending, structural reform and telecommunications infrastructure.
For more information on the APEC SME Working Group, please visit the following link:
http://apec.org/Groups/SOM-Steering-Committee-on-Economic-and-Technical-Cooperation/Working-Groups/Small-and-Medium-Enterprises



APEC SME Ministerial Meeting (SMEMM)
APEC has always recognised the significant role of SMEs in the growth and dynamism of the Asia-Pacific region. The APEC SME Ministerial Meeting (SMEMM) is held annually to discuss SME issues in greater depth. At its first meeting in 1993, APEC leaders identified the importance of APEC in advancing a policy dialogue on SMEs.
Today, SMEMM continues to support the framework provided by the Boracay Action Agenda to Globalise MSMEs (BAA) in guiding APEC's work for the participation of MSMEs in international trade. Improving outcomes for SMEs supports APEC's regional economic integration agenda and moves the APEC region closer to achieve the Bogor Goals for free and open trade and investment in Asia-Pacific.
The 25th APEC SMEMM was held in Concepcion, Chile from 5 - 6 September 2019. "SME Financing and Digital Transformation in a Globalised Economy" was the main topic of the resulting ministerial statement, which covered three (3) subtopics:
Digital Transformation for SMEs and Entrepreneurs;
Fostering Financing for SMEs and Entrepreneurs;
SMEs and Internationalisation: A Better Way of Doing Business in a Globalised World.
The Ministerial Statement and Leader's Declarations can be found at the following links:
Malaysia is proud to be hosting APEC again (both physically and virtually) after 22 years, with the theme 'Optimising Human Potential towards a Future of Shared Prosperity'. The 26th APEC SMEMM is scheduled to convene on 24 September 2020 in Kuala Lumpur. The focus of Entrepreneurs and SMEs track for APEC 2020 is on 'Entrepreneurship: Inclusivity, Innovation, Digitalisation'. MEDAC and its agencies have planned various programmes throughout the year with the highlight on APEC SME Week 2020 from 21 - 24 September 2020.
APEC Workshops
Malaysia was involved in the following initiatives this year:


40th APEC SMEWG Meeting held in Atlanta on 10-11 June 2015 and related programmes:


APEC Industry Forum on Addressing Barriers to Trade in Health Care Products Helping SMEs Participate in Global Value Chain [CTI] ( 8 June 2015)


APEC SME Business Matching and Internship Consortium for Global Value Chain Integration (8-9 June 2015)


Supply Chain Capacity Building for Small & Medium Size Enterprises (SME): Supply Chain Management, Cold Chain Storage and Technical Regulations (8-9 June 2015)


Facilitating Small & Medium Size Enterprises (SME) Trade through Better Understanding of Non-Tariff Measures in the Asia Pacific Region (1st Workshop) (8-9 June 2015)


41st APEC SMEWG Meeting held in Iloilo, Philippines on 23-24 Sept 2015 and related programmes:


SME Finance Forum (22 Sept 2015)


APEC Workshop on Facilitating SME Trade through Better Understanding of Non-Tariff Measures (NTMs) in the Asia Pacific Region (21-22 Sept 2015)


Additional APEC Workshops


Preparation of minit ceraian, budget, and logistic arrangements for the respective programmes


APEC Summit and Training Workshop on Promoting SME Business Continuity Planning, Chinese Taipei (27-28 July 2015)


2015 APEC Business Ethics Forum, Manila Philippines (19-20 August 2015)


APEC Harmonisation of Standards Project Workshop, Sydney, Australia (4-5 Nov 2015)


APEC E-Commerce Forum, Jeju, Korea, (26-28 Nov 2015)
Publication on APEC
From time to time, the APEC Policy Support Unit releases several publications on trade and investment trends in the region. These publications can be helpful for SMEs to chart their strategy in venturing into new international markets by understanding the dynamics of the economic development in APEC.


The following are the latest APEC publication released


These are the reports/publications the PSU just published. For your reference please.


Growth Strategy


1. Assessment of the APEC Leaders' Growth Strategy


The report discusses the nature of the APEC Leaders' Growth Strategy endorsed in 2010. It also discusses the challenges involved in assessing the progress; existing links between this strategy and other APEC initiatives; and the work reported by APEC committees and sub-fora relating to the implementation of this strategy. The report includes specific sections on the five growth attributes identified in the Growth Strategy, namely: i) balanced; ii) inclusive; iii) sustainable (green); iv) innovative; and v) secure growth.



Trade, Investment & Economic Trends


2. APEC Economic Trends Analysis - Growth Softens as Challenges Intensify


Key messages from this issue:


• Growth is expected to soften in 2015 and recover in 2016.


• Growth prospects during the period 2015-2016 will be determined by three major factors: i) persistence of the downward trend of oil and non-oil commodity prices; ii) strength of China's economy and stability of its markets; and

iii) normalization of US monetary policy and its attendant risks.


• Softening of growth prospects as challenges intensify require a concerted response. In 2015 and beyond, as economies rebalance economic growth towards strengthening domestic demand, they will need to consider implementing an appropriate mix of monetary and fiscal policies together with structural reforms to raise productivity and strengthen private consumption.



3. Key Trends and Developments Relating to Trade and Investment Measures and their Impact on the APEC Region - Trade, Inclusive Growth, and the Role of Policy


This report was presented at the recent APEC Ministerial Meeting in Manila. The first section discusses the linkages between trade performance and inclusive growth and examines the role of policy to promote inclusive growth. The second section reports trade and investment trends in the APEC region covering 2014 to the first half of 2015, and lists recent trade and investment policies implemented by members.


4. APEC's Bogor Goals Dashboard 2015


The PSU compiled this dashboard using indicators gathered from respectable public sources for the period 2008-2014. The purpose is to provide easy-to-understand figures to track the advances in areas critical to promoting greater regional economic integration. The intention is to display a set of harmonized indicators laying out the evolution across time of certain aspects of trade and investment liberalization and facilitation in quantitative terms, and to complement the Bogor Goals Progress Reports as part of the assessment to determine APEC's progress towards these goals.


5. APEC in Charts 2015


An annual publication of the PSU, it depicts the region's economic, trade, investment and policy-related performance through the use of charts.
Services, Global Value Chains and Supply Chain Finance


6. Report on APEC Work on Services and Baseline Indicators


This report evaluates APEC's work on services and proposes baseline measures and relevant indicators for services trade in the region. It is prepared to support the development of the APEC Services Cooperation Framework, a new initiative on services which APEC Leaders just endorsed in Manila. A database of baseline indicators and measures collected by the PSU is also appended.



7. Services in Global Value Chains: Manufacturing-Related Services


The objective of the study is to collect firm-specific insights on the contribution of manufacturing related services in their supply/value chain operations using a case-study approach. It also analyzes how government policies affecting the production and trade of services – such as investment and investment-related policies, taxes and regulations – can have a significant implications on firm's configuration, operation and location of value chains. During the study, case studies involving 22 firms based in 12 APEC economies were compiled. They cover different sectors ranging from automotive components and mining equipment to electrical appliances and watch. The summary report can be found in Chapter 1 while the individual case studies can be found in Chapter 2 to 21.



8. Guidebook on Trade and Supply Chain Finance


The Guidebook describes typical supply chains and which stages need financing and how they are financed. It discusses risks in the supply chains and various mitigation mechanisms whose availability and use depend on the presence of proper regulatory and legal infrastructures as well as the confidence of the market in them. The Guidebook also talks about financial instruments such as warehouse receipts financing, invoice finance, receivables finance, factoring, and forfaiting. Case studies of what had gone wrong in particular actual transactions are presented as examples and provide important insights on regulatory or institutional deficits that need to be bridged.



Regulatory Reform and SMEs


9. Assessing the APEC New Strategy for Structural Reform (ANSSR) and Advancing the APEC Structural Reform Agenda Beyond 2015


This report reviews the progress of ANSSR. It begins with a discussion of the drivers of growth, according to the framework of the debate on middle income trap. This is followed by the outcome of review of the information provided by economies in the ANSSR 2015 templates, a commentary on capacity building, and some notes on the manner of reporting of projects. The final section contains a series of suggestions for consideration in the design of the next phase of the APEC structural reform agenda.



10. Regulatory Reform: Case Studies on Improving the Business Environment for Small and Medium Enterprises


Through the use of case studies, this report draws lessons and suggests policy recommendations based on previous experiences related to the implementation of regulatory reforms to improve the business environment for SMEs. The four case studies focus on: (1) dedicated agencies to assist SMEs with growth, development, compliance and internationalization; (2) agencies and institutions that specialize in supporting SME finance; (3) regulatory tiering; and (4) SME-friendly Regulatory Impact Assessments.



For more information on the latest APEC PSU Publications please visit the following link: