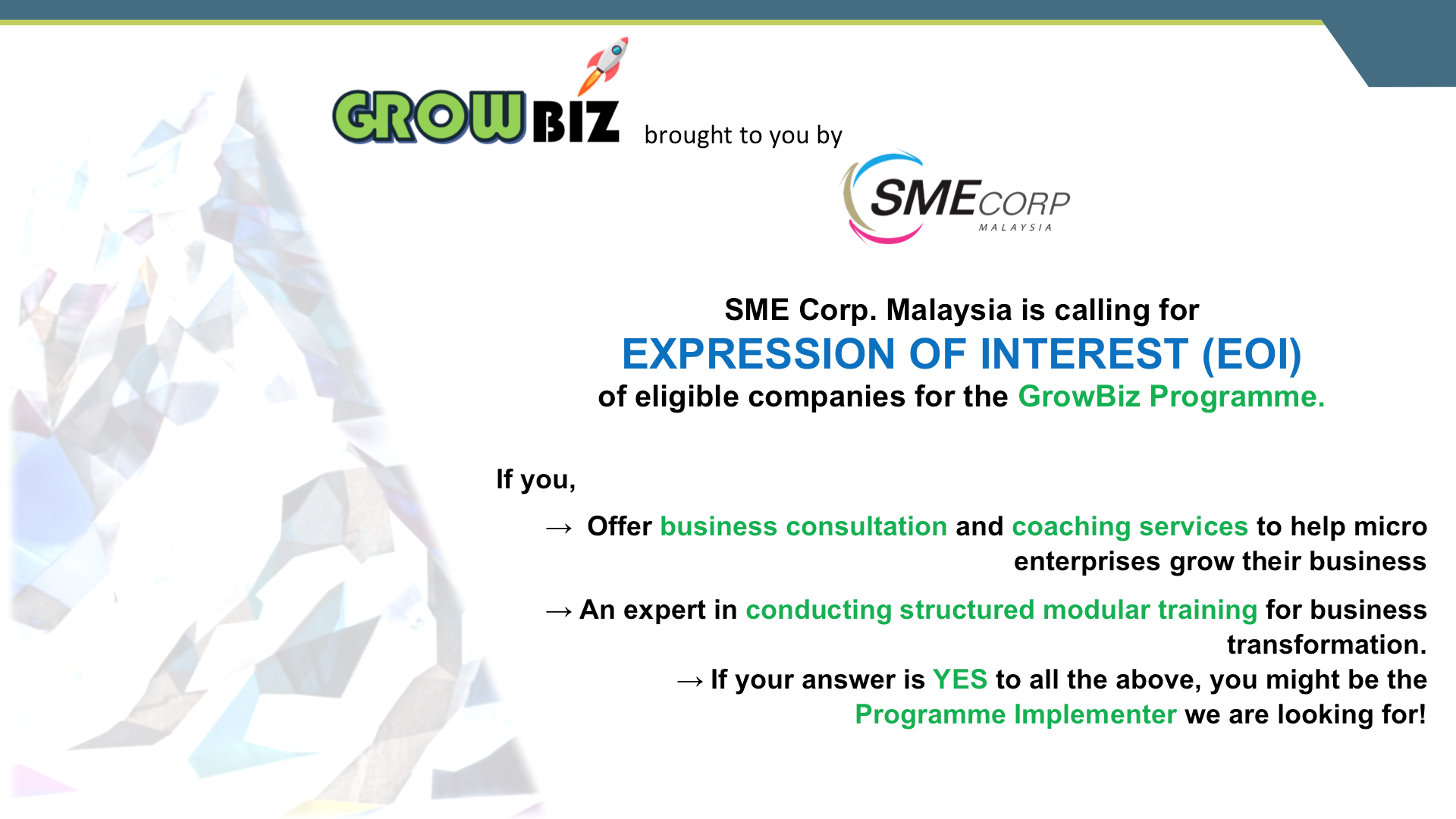 SME Corp. Malaysia is looking for a capable Programme Implementer for the GrowBiz micro enterprise business transformation programme.
The GrowBiz programme is one of the initiatives under the Micro Entrepreneur Business Development Programme (BizME) by SME Corp. Malaysia specifically to upgrade the knowledge and skills of micro enterprises for transformation into small businesses. GrowBiz will be implemented by a firm appointed by SME Corp. Malaysia which will be known as the Programme Implementer.

Objective
GrowBiz employs a hand-holding approach which includes elements of business coaching and training, business rating and certification, as well as business facilitation to guide micro enterprises to take their business endeavours to the next level.

Training Module
Programme Implementer will be offering GrowBiz participants a structured and customised training module which includes:
Legal aspects in business and business contract management
Financial management and financial products including alternative financing
Digitalisation
Marketing
Branding
Other relevant modules

A pool of 50 micro enterprises will be selected to participate including 15 women-owned and 7 youth-owned micro enterprises.
Training Requirements
This programme offers intensive training to eligible participating micro enterprises.
Training and coaching sessions for participating micro enterprises will be conducted hands-on by the Programme Implementer.
Participating micro enterprises will be monitored by the Programme Implementer for 12 months from the date of the training session.
Programme Implementer will arrange for participating micro enterprises to undergo the MCORE/SCORE rating before and after the training is conducted to monitor their progress.
Programme Implementer must ensure that participating micro enterprises acquire the SME Status certification during the training period.
Qualifying Criteria for Programme Implementer

Programme Implementer must possess these criteria:
Open to all companies with experience in providing business training and guidance
Companies are registered with the Companies Commission of Malaysia (SSM) under the Companies Act 1965 or 2016 or the Limited Liability Partnership Act 2012 & has a relevant business license, premises ownership license and any applicable valid license (if any)
At least 60% equity owned by Malaysian
Company/owner has experience in related field of at least five (5) years
Has latest audited financial statements of at least one (1) year
Has sound financial capabilities
Contact Information
If you are interested to become our Programme Implementer, kindly submit your Expression of Interest (EOI) and application form to the following details:

Policy Monitoring and Inclusive Development Division
SME Corp. Malaysia
Level 6, Block C, Platinum Sentral
Jalan Stesen Sentral 2, Kuala Lumpur Sentral
50470 Kuala Lumpur
Attention to:
GrowBiz Programme Secretariat
email to: This email address is being protected from spambots. You need JavaScript enabled to view it.
1300-30-6000
Closing Date
15 April 2021
Disclaimer:
All commitments and assistance extended under the said Programme are subject to the availability of fund. SME Corp. Malaysia reserves the right to discontinue or suspend the Programme, or change the content or formatting of the Programme, at any time without notice to anyone, and to require the immediate cessation of any specific use of the Programme. In addition, we reserve the right in our sole discretion to suspend, terminate or restrict the public's access to the Programme at any time and for any reason. SME Corp. Malaysia will not be held liable for any loss or damage suffered by any Parties participating in this Programme.
WARNING: Providing false or misleading information for the purpose of defrauding SME Corp. Malaysia is a crime under the Penal Code which penalties include imprisonment and with whipping and shall also be liable to fine. In addition, SME Corp. Malaysia may deny any benefits, rewards or assistance if false information is associated to an application.